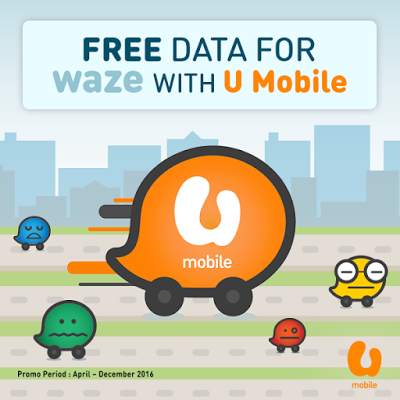 Free Data for Waze with U Mobile
Enjoy free data for Waze on all current Postpaid plans and all Prepaid monthly data subscriptions from 19 April onwards. Waze is the world's largest community- and GPS-based geographical traffic and navigation app.
Postpaid plans: All Postpaid plans with monthly data bundled
Prepaid Plan: All Unlimited Mobile Internet (UMI) Plans
Broadband plans: MB15, MB40, MB68, MB128 and MB128N
What is the Unlimited Waze offer? All U Mobile subscribers with data bundled plans (except for MB Day) will have unlimited usage for Waze. All usage on Waze will not be deducted from your monthly data bundle. What is the promo period? Offer begins from 19-Apr-16 till 31-Dec-16. What if I am suspended? Will I still be able to enjoy the service? No, the Free Unlimited Waze offer is only available when your account is in active status. Please reactivate (Postpaid) or top-up (Prepaid) to enjoy the offer. I have exhausted my bundled data and my speed is throttled. Will I still be able to enjoy Waze at high speed? Yes you will continue to enjoy Waze at high speed even when your bundled data is exhausted. What if I changed rate plan from postpaid to prepaid or vice versa? Will I still be able to enjoy this offer? Yes the offer is available to you so long as you sign up to any prepaid or postpaid plan with data bundle.
---
This is a companion discussion topic for the original entry at
http://harga.runtuh.com/2016/04/u-mobile-free-data-for-waze-gps.html?m=0