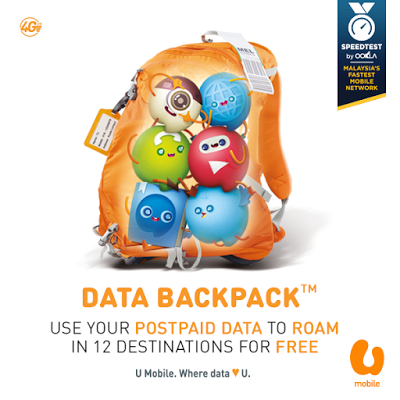 U Mobile Postpaid Free Internet Roaming at 12 Countries
Calling Postpaid users! Want to enjoy your data plan overseas, just like at home? Then you'll loveeee our new Data Backpack™! All P70, i90, i130, UD95 & UD135 users can now enjoy data roaming in 12 countries including Australia and Singapore, with own data quota for FREE. Upgrade now to Malaysia's Fastest Mobile Network!
DATA BACKPACK™
Use your postpaid data to roam in 12 destinations for free. Bring your postpaid data plan with you on your travels.
You can now use the data from your Hero P70, i90, i130, UD95 or UD135 postpaid plan overseas at no extra charge!
Simply activate international roaming before you travel and connect to our preferred roaming partner to take advantage of this offer.
Frequently Asked Questions (FAQs)
Which destinations are included in the promotion?
Data Backpack is available in 12 countries, namely Australia, Bangladesh, Cambodia, Hong Kong, India, Indonesia, Laos, Philippines, Singapore, South Korea, Taiwan and Thailand. Just make sure you're connected to the respective networks listed below: Country Preferred Roaming Operator Name of Network that will be displayed on your mobile device Australia Telstra Telstra Bangladesh Banglalink Banglalink / BGDBL / Sheba Cambodia Cellcard Cellcard / MobiTel / MT-KHM / MobiTel KHM / KHM 01 / 456-01 Hong Kong HKT CSL/ 45400 / HKCSL / C&W HKTelecom / PCCW / 45419 / PCCW-HKT India Aircel AIRCEL Reliance Reliance Indonesia Telkomsel TSEL / TELKOMSEL / IND TELKOMSEL / IND TELKOMSEL 3G Laos Beeline Tigo Lao / Tigo / Beeline / Laos / 45708 Philippines Smart Smart Gold Singapore StarHub STARHUB / SGP05 / 525-05 South Korea SK Telecom SK Telecom/ KOR SK Telecom/ 450 05 Taiwan Taiwan Mobile TAIWAN MOBILE / TW MOBILE / TWN GSM / PACIFIC / TWN GSM1800 / TWN97 / ROC 97 / 466 97 / TW 97 / TCC Thailand True Move TRUE / TH3G+ / True-H 3G+ /52000
Is there any time limit for Data Backpack's usage?
There is no specific time limit. The reset of data quota will be based on your billing cycle. For example, if you are subscribed to the i90 plan, your allocated data quota is 7GB which will be available from the 1st of each month and will end on the 31st of each month. The data quota will be replenished on the 1st of every month.
How does Data Backpack work? What happens when I arrive at my destination?
Once you arrive at your destination, you will automatically enjoy Data Backpack as soon as we detect any data usage once you connect to our preferred roaming operator's network.
What happens if I am not roaming on the preferred roaming network operator?
You will not be connected to the internet. However, you may still use voice and SMS services subject to the applicable charges imposed by the roaming operator's network that you are connected to.
---
This is a companion discussion topic for the original entry at
http://harga.runtuh.com/2016/04/u-mobile-free-internet-roaming-using-postpaid-data.html