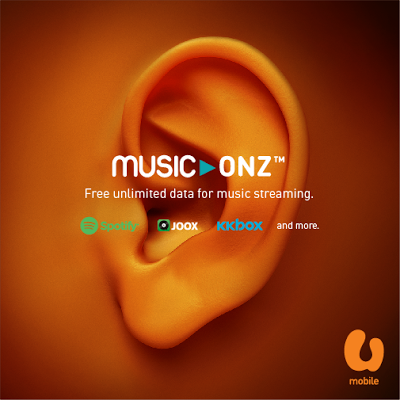 U Mobile MusicOnz Free Data for Unlimited Music & Internet Radio Streaming
Yaaaaaaaas! #MusicOnz is here *fangirl scream!* Non-stop playback action for both Postpaid and Prepaid data plan subscribers on Spotify, JOOX, Tidal, KKBOX, Hitz FM, MY FM, ERA fm and more.
Music-Onz is a FREE service that lets you enjoy music streaming from the most popular music apps and Internet radio services without using your rate plan data.
FREE UNLIMITED music streaming on Prepaid and Postpaid plans
Unlimited Streaming

Worry-free music streaming on Prepaid UMI plans,
Hero Postpaid plans and Broadband plans without consuming your data

12 Partners

Spotify
JOOX
Tidal
KKBOX
Hitz FM
MY FM
Era FM
BFM 89.9
Fly FM
Hot FM
One FM
Kool FM

Music On-demand

All-day music streaming wherever you are
How U Mobile Free Music Streaming Works?
Music-Onz is a dedicated data bucket allocated for music streaming only. Data used when streaming music from our Partners will be deducted from Music-Onz data bucket.
Subscription charges for individual music partners may apply
Free unlimited data for Music-Onz is a limited time offer.
Free music streaming data quota valid for use in Malaysia only
T&C apply
U Mobile Postpaid Plans Users
Postpaid customers automatically enjoy FREE UNLIMITED Music-Onz with their plan.
U Mobile Prepaid Plans Users
Prepaid customers get FREE UNLIMITED Music-Onz with purchase of UMI / MB data* packages.
To subscribe UMI/MB, dial *118#
*Not valid with MB2
---
This is a companion discussion topic for the original entry at
http://harga.runtuh.com/2016/12/u-mobile-music-onz-free-unlimited-data-music-streaming-radio.html?m=0