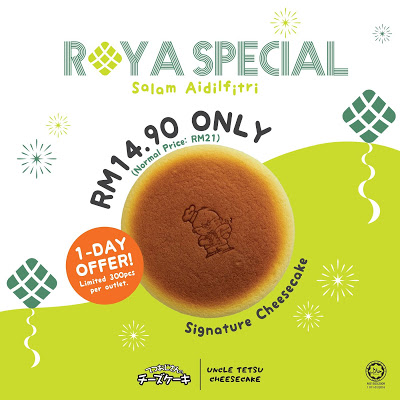 Uncle Tetsu Cheesecake Malaysia Raya Special Discount Price Offer Promotion
'Balik kampong, oh oh ohhhh balik kampung'. Let's celebrate this Hari Raya with Uncle Tetsu Cheesecake.
On 23 Jun 2017, you are able to enjoy Uncle Tetsu Signature Cheesecake at RM14.90 only each (Normal Price: RM21). You don't want to missed this special 1 (ONE) day Raya promo!
'Balik kampung, oh oh ohhhh balik kampung'. Uncle Tetsu Cheesecake ingin berkongsi kemeriahan ini dengan anda semua.
Pada 23 Jun 2017, anda boleh menikmati Uncle Tetsu Signature Cheesecake bersama orang kesayangan anda dengan harga istimewa RM14.90 sebiji sahaja. Satu hari sahaja, jangan lepaskan peluang ini !
Uncle Tetsu Hari Raya Promo Terms & Conditions
This promotion is valid on 23rd June 2017.
This promotion is applicable to Uncle Tetsu Signature Cheesecake (Original flavor) only.
Each customer is entitled to purchase only 1 (ONE) pc of Cheesecake.
RM14.90 promotional Cheesecake is limited to 300pcs per outlet.
First come, first serve basis. While stocks last.
All of Uncle Tetsu's cakes are baked freshly on daily basis. Therefore in any circumstances if the cakes are still in baking process, kindly wait in line for your cheesecake purchase. No reservations are allowed during the promotion day.
Uncle Tetsu Management reserves all the rights to forfeit or alther any terms and conditions including canceling the promotion without prior notice.
Link
---
This is a companion discussion topic for the original entry at
http://harga.runtuh.com/2017/06/uncle-tetsu-cheesecake-discount-promo.html