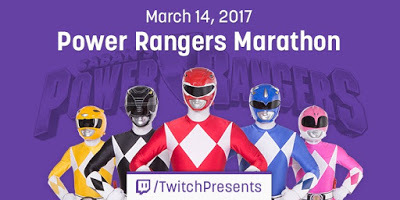 Twitch Presents Power Rangers Marathon Mighty Morphin Power Rangers
The marathon, which will run from March 15 through March 30, features 23 seasons and all 831 episodes of 19 different television series. It's timed for the run-up to the release of Lionsgate's Power Rangers on March 24.. Go, go!
The shows will air on the Twitch Presents channel, which is part of Twitch's monthly subscription offering, also available to Amazon Prime subscribers. Streamers can also co-host the series, offering their own commentary. Subscribers will be able to grab Power Rangers-themed emotes.
Power Rangers stories follow the adventures of a team of teens who are able to morph into superheroes and travel the galaxy, fighting off evil.
FREE TV Series Streaming: Power Rangers - All Episodes now live on Twitch!
Twitch is currently streaming every episode of Power Rangers 17-day marathon happening right now. All 23 seasons of Power Rangers being streamed on Twitch for free! It's morphin' time! To celebrate the launch of /TwitchPresents we are proud to present the complete Power Rangers series starting March 14th at 11am PDT.
---
This is a companion discussion topic for the original entry at
http://harga.runtuh.com/2017/03/watch-free-live-streaming-of-power-rangers-marathon.html