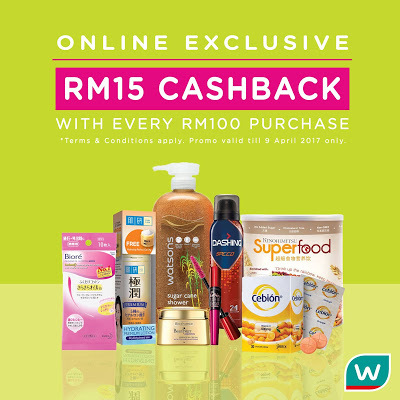 Watsons Malaysia Online Store Cash Back Weekend Promotion
WEEKEND ONLINE EXCLUSIVE! Receive RM15 cashback with every RM100 spent at Watsons Online Store at
*Terms and Conditions apply. Promotion valid till 9 April 2017 at Watsons Online Store only.
Watsons Online Store Cashback Weekend Promo Terms & conditions
With any purchase of RM100 get RM15 Cash eVoucher (A unique code eVoucher will direct sent sms to customers after the confirmation payment is "Capture")

RM100 entitle RM15 Cash Back eVoucher
RM200 entitle RM30 Cash Back eVoucher
RM300 entitle RM45 Cash Back eVoucher
And More

Combine receipts is not valid.
Cashback eVoucher will be sent within 48hours after promotion ends
This promotion only applicable for Watsons online store only.
eVoucher unique code only valid for 7 days.
This promotion eVoucher is without any conditions purchase (as good as cash)
The management reserves the right to amend this privilleges, terms and conditions without prior notice.
This promotion only valid on 8 April 2017 till 9 April 2017.
Link
---
This is a companion discussion topic for the original entry at
http://harga.runtuh.com/2017/04/watsons-online-store-cashback-discount-weekend-promo.html