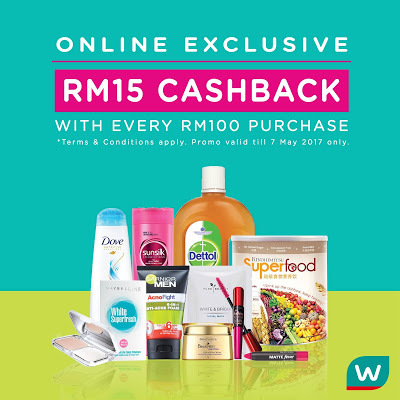 Watsons Malaysia Online Store Exclusive Cashback Weekend Promotion
ONLINE EXCLUSIVE! Enjoy more savings and get RM15 CASHBACK with every RM100 spent at Watsons Online Store!
*Terms and conditions apply. Promo valid till 7 May 2017. Only at Watsons ONLINE.
Weekend Specials are back with More Sale as you enjoy more savings and discounts at 80% OFF your 2nd item on selected products. Get them now at your nearest Watsons store or Shop ONLINE
*Terms and Conditions apply. Promo valid till 8 May 2017. WM only.
Link
---
This is a companion discussion topic for the original entry at
http://harga.runtuh.com/2017/05/watsons-online-store-rm15-cashback-weekend-promo.html