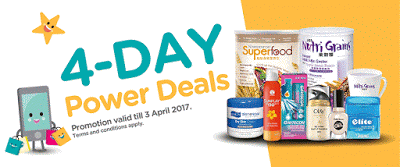 Watsons Malaysia 4 Day Power Deals Discount Promotion
Power Sale is back with more Power Weekend Specials! Enjoy savings up to 50% OFF on selected items! Shop now at your nearest Watsons store or shop ONLINE.
*Terms and Conditions apply. Promo valid from 31 March 2017 till 3 April 2017. WM only.
Watsons Power Sale Discounted Product List (Click Link for Offer Price)
Up to 50% Off / Power Deals
Sally Hansen Miracle Gel Nail 1's (Asst)
Scholl Velvet Smooth Electronic Nail Care System 1's
Clinelle Caviar Gold & Whitenup Range
Bio-essence Tanaka White Range
Maybelline Clear Smooth Rebel Bouquet AS 1's (Asst)
Maybelline Eye & Lip Makeup Remover 70ml & 150ml
Maybelline Fashion Brow Palette Brown & Grey 1's
Maybelline White Super Fresh CC Cream
Silky Girl Moisture Rich Lipcolor 1's (Asst)
Elseve Shampoo 450ml (Asst)
Maybelline Push Up Drama Waterproof Mascara 1's
Maybelline Fashion Brow Palette Grey & Pure Concealer Mineral 1's
Maybelline Clear Smooth All In One Filled (Asst)
Maybelline Hypersharp Power Black Eyeliner
Maybelline Clear Smooth Shine Free Bb Stick 1pc (Asst)
L'oreal True Match Liquid Foundation 1pc (Asst)
Rejoice Shampoo 600ml (Asst)
Asience Shampoo & Conditioner 480ml (Asst)
Bigen One Push 1's (Asst)
Beautylabo Whip Hair Color 1's (Asst)
Nano Double Action White Gel Cream 40ml
Biore Cleansing Water 300ml
OXY Cleanser 100g (Asst)
Botanics Mask 1's (Asst)
Sunplay Uv Body Mist (Asst)
Hada Labo Lotion (Asst)
Lipice Lip Balm (Asst)
L'oreal Revitalift Range
Garnier Light Complete Range
L'oreal White Perfect Range
Garnier Sakura White Range
L'oreal Men Expert Foam 100ml (Asst)
Silky Girl Magic BB All In One Powder Foundation 1's (Asst)
Silky Girl Hi-Definition Brow Liner 01 Soft Black & Brown 1pc
Watsons Sunscreen Body Lotion (Asst)
Pure Beauty GeoAqua Ultra-Hydrating Range
Colgate Toothpaste Twin Pack (Asst)
Sunsilk Shampoo 650ml (Asst)
Kinohimitsu J'Pan Beauty Drink
Beauxlim Lemon Fibre 15g X 15s
Beauxlim Collagen Mix with Pomegranate
Shokubutsu Bodywash 650g (Asst)
Antabax Anti-Bacterial Sanitizer Spray & Cleansing Wipes
Tsubaki Shampoo & Conditioner 220ml (Asst)
Total Image Smelly No More Roll On Deodorant 60g
Himalaya Face Wash 150ml (Asst)
Garnier Micellar Cleansing Water 400ml (Asst)
Clean & Clear Cleanser 100g (Asst)
Vaseline Healthy White Body Lotion 350ml (Asst)
Maybelline Master Liner Black & Brown 1's
Silky Girl Moisture Boost Lipcolor Balm (Asst)
Watsons Men Twin Razor 6's & Trip Blade Razor Men's 3's
Watsons Handsoap Cream Refill 500ml (Asst)
Pure Beauty Moisture & Repair Treatment Shampoo & Conditioner
Watsons Pocket Tissue 10s x 32 Packs
Head & Shoulders Shampoo 330ml (Asst)
Lucido - L Hair Vitamin Oil 50ml (Asst)
Elite Edgy EFX 68g (Asst)
Gatsby Hairspray 180g (Asst)
Dove Shower 1000ml (Asst)
Avene Spring Waterr 2 x 300ml + Cleanser 200ml
Ebene Bio Ray Men & Women Sock 1pair
Bio Oil 200ml + 60ml
Nivea Deodorant Spray Twin Pack 2 x 150ml (Asst)
Lifebuoy Body Wash 1L
Mandom Bifesta Cleansing Lotion 300ml (Asst)
Olay Total Effects Range
Rosken & Bifesta Skin Repair Dry Skin Cream & Cleansing Sheet (Asst)
Watsons Cotton Disposable Underwear Men & Ladies 5's (Asst)
Watsons I & L Type Interdental Brushes (Asst)
Bausch & Lomb Renu Fresh Multi Purpose Solution Travel Pack
Salonpas Hot 1's
NH Nutri Grains 1Kg
NH Natural Clenx Tea Duo Pack 40's + 10's
Watsons Acne Patch 24's (Asst)
Lennox Garcinia Cambogia Chrysanthemum Tea Bag 3.3gX14's
Cebion Vitamin C 1000mg 40's + 20's
Kordel's Glocosamine & Chondroitin 90's+30's
Pharmaton Capsules With Selenium 100's + 30's
Gaviscon Double Action Liquid Sachets 5 x 10ml
Scholl Velvet Smooth & Nail Value Pack 1's
Dettol Antiseptic Liquid 3x750ml
Kinohimitsu Collagen Diamond 50mlx32 +Night
Brands Essence of Chicken 14's x 70g
Kinohimitsu Superfood, Lady & Kids 500g (Asst)
Cetaphil Cleanser 3 x 500ml
Bausch & Lomb Renu Sensitive Multi Purpose Solution
Total Image S Body Twin Pack
Watsons Footease 1pc (Asst)
Bausch & Lomb Renu Fresh Multi Purpose Solution 3x 355ml
Abbott COMPLETE® Multi Purpose Solution
Link
---
This is a companion discussion topic for the original entry at
http://harga.runtuh.com/2017/03/watsons-power-sale-weekend-specials-discount-promo.html