Burger joint Ninja Joe's word play on the popular Ramly halal burger and 1960s Malay screen legend P. Ramlee fell flat.
Malaysian authorities investigate burger joint for 'P. Ramly' pork burger name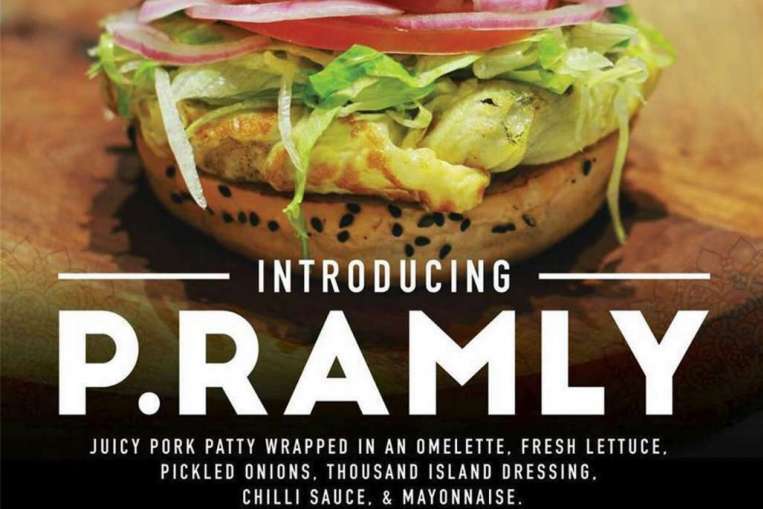 Malaysia said it may act against food outlet Ninja Joe for naming one of its pork burgers "P. Ramly", a play on 1960s Malay movie legend P.Ramlee and the popular Ramly halal burgers.
KUALA LUMPUR - Malaysian Islamic authorities and the consumer affairs ministry are investigating local burger joint Ninja Joe for naming a pork burger "P. Ramly" - a play on the popular Ramly halal burger patties and 1960s Malay screen legend P. Ramlee.
The founder and owner of Ramly burger patties, Datuk Ramly Mokni, has said that he is asking his lawyer for advice on the matter.
The latest controversy over fast food in Malaysia comes just a week after pretzel chain Auntie Anne's tangled with the Islamic authorities over its naming of its hot dog offering "pretzel dogs".
Halal food - food permissible for consumption by Muslims - is a sensitive issue in Malaysia as Muslims turn more conservative.
Ninja Joe proprietor Kelvin Tan told the Malay Mail Online (MMO) news site that the burger joint chose the name "P. Ramly" to pay homage to the country's No. 1 burger brand, Ramly, when the product was launched on independence day at the end of August.
"The Ramly burger has been in Malaysia for a very long time; it's iconic. It's a homage to them," he told MMO, adding that the letter "P" stands for pork.
But Mr Ramly, who heads the Ramly Group, said: "This is a very dangerous issue. If you want to do that for any halal products, then it's a different matter. But this (the pork burger) is not halal."
Ninja Joe has now said it is withdrawing the controversial burger.
"In order to avoid public confusion, we've removed posters of the burger from our outlets and have ceased the use of the P. Ramly name with immediate effect," the burger joint said on its Facebook page on Wednesday.
But that has not stopped the Ministry of Domestic Trade, Cooperatives and Consumerism from saying it may act against the burger joint if it is found to have misled consumers.
The Muslim Consumers Association of Malaysia demanded action as the burger's name has "confused" the public.
Malaysia's Berita Harian (BH) newspaper quoted a woman on Tuesday as saying that the "P. Ramly" name was disrespectful to the late actor, Tan Sri P. Ramlee.
The Veteran Artistes Association has filed a police report asking for action against Ninja Joe for what it deems to be provocation against the Muslim community by using a name that mirrors the Malay screen icon's, BH reported on Wednesday.
That is not all. Ninja Joe, which has outlets in Selangor and Negeri Sembilan, has been visited by the Islamic authorities in the two states.
Officials quoted by BH said they have completed their investigations on the matter after confiscating a piece of bunting, a menu and a sales receipt.
Source: The Straits Times