The latest buzz to hit social media recently came from a tweet that local celebrity Nur Fathia Latiff had made regarding the service she received during a recent MAS flight she took.
According to her tweet that has since been deleted, Nur Fathia Latiff uploaded a photo of a flight attendant with a post saying that the staff had refused to help her with her hand carry luggage as she was experiencing backache problems.
This spurred the celebrity to express her rage, citing that if the flight attendant was too ill to work, maybe she needn't come to work at all.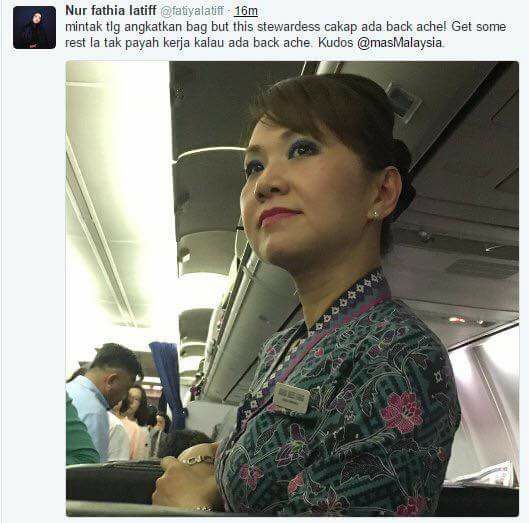 This fuelled a lot of backlash as a lot of netizens then responded by saying that she should educate herself regarding the duties of an air steward.
According to the airline's policy in observing Occupational, Safety and Health Regulation requirements, cabin crew are not required to stow passenger's hand luggage into the overhead compartment.
This was just a bit of a reminder on how not many may be aware of what exactly are the responsibilities of a flight attendant.
Source: Vulcan Post