Digi Postpaid Infinite 100 Internet Plan (Up to 5Mbps)

RM100/Month
Infinite Internet (unlimited) up to 5Mbps Speed
Infinite Calls (unlimited)
FREE 20GB Internet Hotspot Data Quota Every Month for 12 Months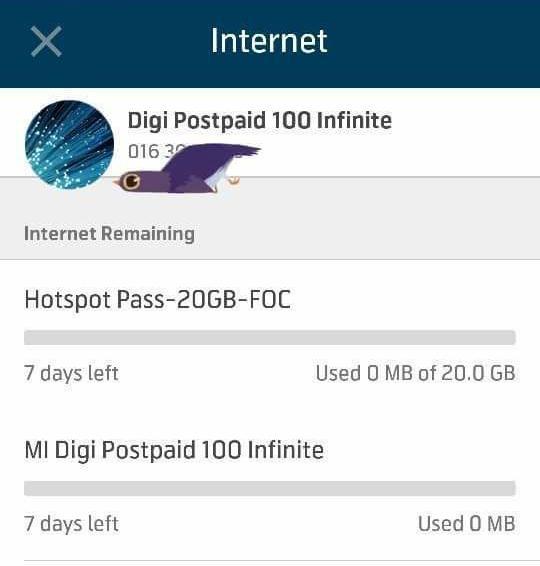 Limited time promo! Sign up before 24th June 2017 or until such period to be determined by Digi. Digi Postpaid 100 Infinite is not applicable with device contract sign ups.
Roam Like Home Monthly is applicable in Brunei, China, Hong Kong, Indonesia, Myanmar, Singapore, Taiwan and Thailand.
Unlimited Calls to all networks excludes video calls, calls to special numbers, calls to toll–free 1–300 numbers and calls to 121 numbers.
Subscribe to Auto Billing to enjoy discount of 5% off total monthly bill for six (6) months only applicable for the New Digi Postpaid plans and Broadband plans; total monthly bill includes monthly fees and usages, but excludes standard and itemized billing charges).
How to bypass Digi Infinite 100 & 80 Internet hotspot tethering block & tether limit?