Enfagrow A+ Malaysia: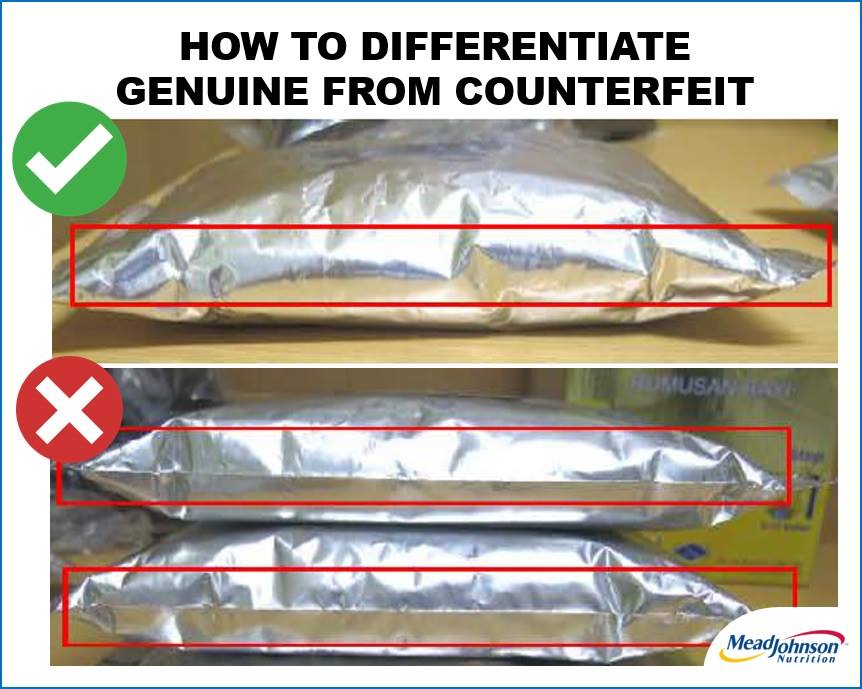 Dear Parents,
Mead Johnson has been working with the Malaysian authorities to investigate reports of possible counterfeit infant formula milk powder in Johor Bahru. The retail searches conducted this past week were based on information provided by MJN and resulted from its own investigation.
The searches identified a small percentage of suspect product in a handful of retail outlets within a limited geography in Skudai, Johor Bahru. The only product involved is Enfalac A+ Step 1 in 1.8 kg box, with three foil packs in each box – and only those sold in a small number of stores in Iskandar Puteri, Taman Mutiara Rini, Taman Orkid, and Taman Nusa Bestari. An extensive market search has confirmed no suspect product except for this specific packaging format in this limited geographic area.
As noted, we are working closely with the Malaysian authorities. Retail searches to date have only produced 210 counterfeit packs, but the investigation continues with the objective of completely eliminating their presence. The Malaysian authorities have confirmed that they are actively pursuing the counterfeiting operation and that those connected with it will be prosecuted and punished to the full extent of the law.
Our investigation – and the recent retail searches – indicate that the incidence of this counterfeit product is extremely low, but we want to ensure peace of mind for our consumers. The easiest way to identify the counterfeit product is to examine the individual foil pouches. The genuine Enfalac A+ Step 1 pouches are a bit puffy. The counterfeit pouches are tight-fitting to the powder and have distinctive sharp creases on both sides that are not present in genuine pouches, as indicated in the image.
If consumers find pouches of Enfalac A+ Step 1 1.8 kg with such creases in product that they have purchased, they should immediately contact the Mead Johnson consumer care line at 1-800-88-3585 (Monday-Sunday 9.00am -9.00pm) to report their concern and receive replacement product.
If consumers have Enfalac A+ Step1 1.8 kg product that is no longer in the original packaging, they can also contact us for replacement product.
Cara Untuk Mengenalpasti Pek Tulen atau Tiruan Susu Formula
Kepada ibu bapa sekalian,
Mead Johnson Nutrition bekerjasama dengan pihak berkuasa Malaysia untuk menyiasat laporan susu formula palsu di Johor Bahru. Pemeriksaan yang di buat di pasaran yang dijalankan minggu lalu ini adalah berdasarkan maklumat yang diberikan oleh MJN dari hasil siasatan syarikat.
Hasil pemeriksaan telah mengenalpasti sebilangan kecil produk yang disyaki di segelintir kedai runcit dalam kawasan geografi yang terhad di Skudai, Johor Bahru. Produk yang terlibat ialah Enfalac A+ Langkah 1 pek 1.8 kg (tiga pek foil dalam setiap kotak) - dan hanya dijual dalam sebilangan kecil kedai di Iskandar Puteri, Taman Mutiara Rini, Taman Orkid dan Taman Nusa Bestari. Pemeriksaan yang luas dalam pasaran telah mengesahkan bahawa produk palsu hanyalah di dapati dalam format pembungkusan 1.8 kg dan hanya di kesan dalam kawasan geografi yang terhad ini.
Dalam kerjasama yang kami jayakan bersama pihak berkuasa Malaysia, pemeriksaan di pasaran setakat ini hanya mendapati 210 pek tiruan, tetapi siasatan lanjut masih berterusan bertujuan menghapuskan produk tiruan sepenuhnya. Pihak berkuasa Malaysia telah mengesahkan bahawa mereka akan meneruskan siasatan secara aktif dalam operasi penghapusan susu tiruan dan memastikan pihak yang berkaitan akan didakwa dan dihukum sekeras-kerasnya oleh pihak yang berwajib.
Penyiasatan kami - dan pemeriksaan runcit baru-baru ini - menunjukkan bahawa insiden produk tiruan ini sangat rendah, tetapi kami ingin memastikan pengguna yakin dengan pek produk yang di beli. Cara paling mudah untuk mengenal pasti produk tiruan adalah memeriksa pek foil individu. Bungkusan Enfalac A+ Langkah 1 yang tulen kelihatan mempunyai lebih udara dalam pek. Manakala pek foil tiruan pula mempunyai udara yang kurang dan serbuknya lebih mampat.
Bungkusan mempunyai lipatan tajam yang ketara di kedua-dua belah bahagian sisi nya, manakala lipatan tidak ada pada pek foil tulen, seperti ditunjukkan dalam gambar di bawah.
Sekiranya pengguna menemui pek Enfalac A+ Langkah 1 1.8 kg dengan lipatan tajam pada sisi bungkusan foil dalam produk yang dibeli, sila hubungi talian pelanggan careline Mead Johnson di talian 1-800-88-3585 (Isnin-Ahad 9.00 pagi -9.00 malam) dengan segera untuk mendapat sokongan dan menerima produk gantian.
Sekiranya pengguna mempunyai produk Enfalac A+ Langkah 1 1.8 kg yang tidak lagi dalam bungkusan asal, mereka juga boleh menghubungi kami untuk mendapatkan produk gantian.
致各位亲爱的家长,
美赞臣(Mead Johnson)正与马来西亚有关当局合作调查一单在新山疑似仿造婴儿配方奶粉之报道。 过去一周的搜查行动是根据MJN自个儿进行的调查所提供的线索而展开的。
有关搜查行动的展开成功鉴定一部分的可疑产品出现在局限在士古来区域,新山里的少数零售店。唯一涉及的产品是Enfalac A+ Step 1 1.8公斤装(每个盒子里有三个铝箔包装)- 并在为数及少,位于Iskandar Puteri, Taman Mutiara Rini, Taman Orkid, 和 Taman Nusa Bestari的零售店里出售。广泛的市场搜索发现,除了这个特定的包装形式及非常局限的区域外,并没有其他可疑的产品出现。
如上面所述,我们正与马来西亚的当局密切合作。 到目前为止,搜查行动只发现210个假冒包装,但调查还是持续的进行当中,目的是要彻底的消除他们。 马来西亚当局也已经证实,他们正积极展开调查行动,并确保涉及的人士受到起诉和接受惩罚。
我们的调查及最近的零售店搜查显示,这种假冒伪劣产品的发生率非常低。然而,我们仍然要确保消费者可以安心地使用我们的产品:
识别假冒产品最简单的方法是检查该铝箔袋。
正品的Enfalac A + Step 1口袋有点浮肿。 如下图所示,假冒的袋子与粉末紧密贴合,并且两侧都有明显的折痕,这些折痕并不存在于正品的袋子中。
如果消费者在购买Enfalac A + Step1 1.8公斤装的产品时发现有这种折痕,消费者应立即联系美赞 臣Mead Johnson的客户服务热线1-800-88-3585(星期一至星期日上午9时至晚上9时),以表示他们的疑虑并获得产品更换。
如果消费者使用的Enfalac A + Step1 1.8公斤装产品已经不在原包装内,他们也可以联系我们以安排产品更换。