Webe Suck - Account Termination Refund Cheating Case: Actual Refunded Amount Way Less Than Account Balance Which Was Deceiving
#boycottwebe
#report2MCMC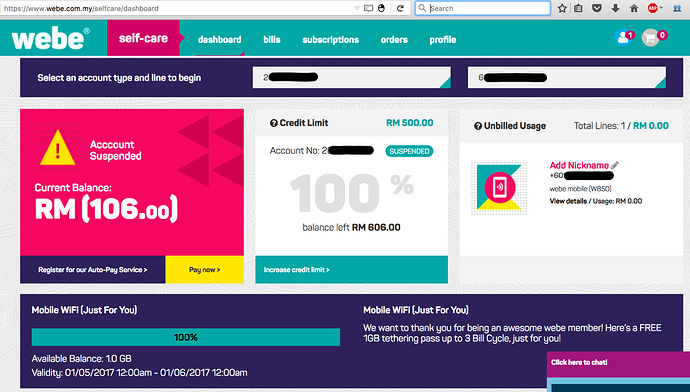 webe Suck: Account Balance Refund Scam Cheating Case
When my webe mobile account was suspended abruptly due to my rejection of webe marketing's up-selling call (which violated Malaysia Personal Data Protection Act and pushed blame to its parent company TM), I saw that my account has a balance of RM606.
After multiple dealings with webe's lackluster and unacceptable level of customer service, I've come to the conclusion that enough is enough and requested account termination with a plan to use my account balance to purchase mobile & broadband service from other telcos.
When I requested for account termination over the phone, I requested for the account refund amount. However, webe customer service manager just said webe will deduct my account balance with any unpaid amount and then refund the balance. She was not able to tell me an exact amount.
Anyway after multiple tries to contact webe's horrendous customer service, webe came back to me after many days later that the refunded amount will be RM106. WTF, this is totally scam!
I made the decision to terminate my account based on the information on my account balance displayed in webe Self Care portal so that I can use the balance to purchase mobile plans from other service provides. But now webe suddenly decided to refund only RM106 instead of RM606!
This is robbery in broad daylight! I've reported the case to both MCMC and KPNKK.
If you face similar scam or cheating case from webe or has experienced any level of unacceptable service such as unsolicited marketing call from webe, please report to MCMC so that the authority know how bad the scam & cheating problem at webe.
Just today, there is this case of Webe Mobile misleading scam marketing on Facebook ad trying to cheat customers with false promise of RM49 price & free hotspot.
If you follow webe complaints, you will know that there is a trend of bad customer service and deceiving false advertising by webe. Avoid webe if possible, there are lots of service providers in Malaysia that provide way better service at more affordable prices.